Cabinfest 2018
August 31, 2018 @ 11:00 am

-

September 3, 2018 @ 2:00 pm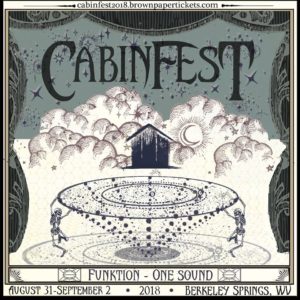 The Cabinfest team, with major help from our good friends at SubSurface Dynamics, is happy to announce CabinFest 2018!
CabinFest is the most intimate music and arts festival experience you can take part in
=== TICKETS: https://cabinfest2018.brownpapertickets.com/ ===
Please Note: Logging into your PayPal account may cause checkout issues.
Use the "pay with a debit or credit card" option to ensure success.
== FAQ:https://docs.google.com/document/d/14BdppBZed_Diy4giv6EzcPaR74pqOR4_DAlGjUy67As/ ==
= Venue Map: https://i.imgur.com/HkceLO0.jpg =
We are keeping the headliners a secret for now, but the confirmed acts for CabinFest 2018 are as follows:
Aalien
Aliens At Work
Annex Music
B Mo
Bagavond
Beers
Birocratic
Blue Future
Box Era
Bunk Buddha
Choppy Oppy
CNTRLLA
Cyclical
Deerskin
DJCor
Essonite
Globster
Gurf
Hayes Wolff
Heavyside Function
Image.Nation
Indobeats
Jizzy Fra
Juke
LoBo
MezmerEyez
MiSCHiEF
My friend Bill
Rhyatt
Robot Jurassic
Sketchy Pete
smARGE
Smokestax
Squaring The Circle
The Orcastrator
TheBusiness. Ft Tom Davidson
Try and Imagine
vide
Wolfemayne
ZeroGravity
… more to be announced!
>>50 acres of breathtaking private land<<
Over 50 acres of land are at your disposal to explore and adventure. Whether you're into swimming in the stream right next to where your favorite artists perform or hiking across the property to take in the breathtaking landscape while finding out what other surprises we have in store for you, there is a place for everyone to celebrate the festivities. CabinFest is all about the people, creating the best vibes, enjoying the best music and quite possibly the best BBQ you could eat on the East Coast.
>>*NEW* Funktion-1 sound system<<
This year we are ecstatic to feature a Funktion-One sound system that will have you hearing music clearer and crisper than you could ever imagine. In addition to the Funktion-One sound system we will also be featuring a second stage! With this second stage comes the opportunity to feature double the local and national acts than we have in previous years. This is a first for CabinFest, so don't miss it! Complementing these stages will be visual teams that will not disappoint.
>>A variety of entertainment, general store, pet friendly!<<
At CabinFest there will always be something to keep you entertained. In addition to our hand-selected musical lineup we will be featuring other activities from lawn games to yoga sessions. Our hypnotic flow artists and insured fire performers will keep you engaged and mystified. Our new and improved general store is guaranteed to have anything you need. An assortment of refreshments, food, and other supplies will be available and in stock for the entire weekend. Bringing your k9 friend to CabinFest? The general store will have treats and toys for your furry friend too! Basic first aid supplies will also be available at our store in addition to our medical team making sure everyone is safe and kept out of danger. Vendors will also be present, giving our CabinFest family even more merchandise options to browse through.
>>Camping event: bring all the necessities!<<
CabinFest is a camping event so make sure you bring all of the camping necessities to make your weekend stay as comfortable as possible. Those that have 4×4 vehicles capable of coming onto the property will be able to camp next to their vehicle. Those that do not have a vehicle capable of coming onto the property will have to pay a parking fee so carpooling is highly encouraged! Portopotties will be available for our guests to use, with one of those portopotties being designated for women only.
Applications for our volunteer team will be available soon.
CabinFest is gearing up for its most immersive installment yet. Nothing but gorgeous nature and the stars out in the clear West Virginia night sky as friends and family come together to experience what music is meant to do, connect with one another. We are excited to see you all at CabinFest, and we hope you're ready to dive in. Until then…
Stay tuned for future announcements friends!
Join the CabinFest Family facebook group here:
https://www.facebook.com/groups/131676530902710/
– The CabinFest Team + SubSurface Dynamics
WHEN CHECKING OUT..
~Pay via Paypal > Pay with a credit or debit card~
~We recommend using a debit card for minimal fees~