Laika Beats & more! at Sprout Music Collective
June 7, 2018 @ 9:00 pm

-

June 8, 2018 @ 3:00 am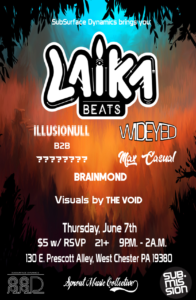 We're headed to Sprout Music Collective on a Thursday for a more experimental side of bass music!
$5 if you RSVP as "going" on this event page!
SubSurface Dynamics presents:
–Laika Beats (PA debut)
–Illusionull b2b ????????
–Wideyed
–Max Casual
-BrainMond
–with visuals by The Void—
21+
Sprout Music Collective
130 E. Prescott Alley, West Chester PA
–Laika Beats
Never afraid to dive in to the unknown, Laika Beat's musical selections are a fusion of varying genres and styles of sub-bass heavy electronica. In the studio, he picks apart and infuses together elements of Dubstep, Trap, Hip-Hop, Future Bass, and Breakbeats through the use of intricate synth sound design, mesmerizing melodies, hip-hop vocal hooks, and chest-rattling sub bass. On stage, he performs sets of all original tracks and remixes, mostly new and unreleased. Using Traktor Stems and 4-deck mixing— he remixes his productions on the fly taking the crowd on a dynamic adventure of bass heavy, omni-tempo dance music. No stranger to classic mixing, however, with an extensive background DJing vinyl and CDJs
https://soundcloud.com/laika-beats
–Illusionull b2b ????????
Coming to you from Philadelphia. Illusionull is bringing you bass music of all different sorts. Obskure Collective.
https://soundcloud.com/illusionull
The unknown act will prove this to be an eclectic set from the both of them, make sure to see this rarity!
–Wideyed
Wideyed is a multi-instrumentalist, songwriter, producer, and DJ based out of North Philadelphia. Bringing together elements of Hip Hop, Trap, and Dubstep to form the basis for his sonic explorations, Wideyed's live performances are a vortex of melody, harmony, rhythm, and bass.
https://soundcloud.com/wideyedaudio
–Max Casual
This West Chester local is known for his hip-hop/dubstep electronica sets.
www.mixcloud.com/adam-rogers7/
-BrainMond
1/2 of BrainHunter.
https://soundcloud.com/therojodiablo73
Vendors:
The Hive Minded
https://www.instagram.com/thehiveminded/